The Best Buckwheat Waffles
I love using buckwheat flour. While some may be put off by its earthy color, I find the warm tones it creates in my baking to be comforting. The flavors are deeper as well, imparting a slightly sweet yet almost grassy flavor to my muffins, waffles, and pancakes. It may take some getting used to, but buckwheat flour is definitely something you should keep in your pantry.
Why? Because buckwheat actually has a number of pretty fantastic health benefits. In fact, if you didn't already know, buckwheat is not actually wheat, but instead derived from the seed of a plant that is related to rhubarb. It's very high in soluble fiber, which may help reduce cholesterol, and its packed with vitamins and minerals, including iron, calcium and magnesium.
Besides flour, buckwheat can also be found as groats (known as kasha) and can be cooked and eaten in grain form, almost like rice.
An easy way to start with buckwheat is try these easy but tasty waffles. True story, my kids have been eating these since they were toddlers. In fact, they didn't know that waffles came in any other color except toasty brown. They've gotten wiser since, but they still love these tried and true breakfast treats. My son Theron still asks for "brown waffles" most Saturday mornings, and most often I happily comply.
A few notes on customizing this recipe:
If you find the flavor of buckwheat a little strong, feel free to cut the flour with half of another type to lighten it up. My favorites are oat flour and Bob's Red Mill GF flour. You can even use regular whole wheat or white flour.
Play around with the type of milks and oils as well. I typically choose coconut or hazelnut milk, but any type will work. For oils, my go-to is melted coconut oil but sometimes I sub with butter or sunflower oil.
You can change up the flavors further by adding extra vanilla extract, switching it up with almond extract, or even adding a dash or two of cinnamon.
Hope you enjoy this recipe as much as we do!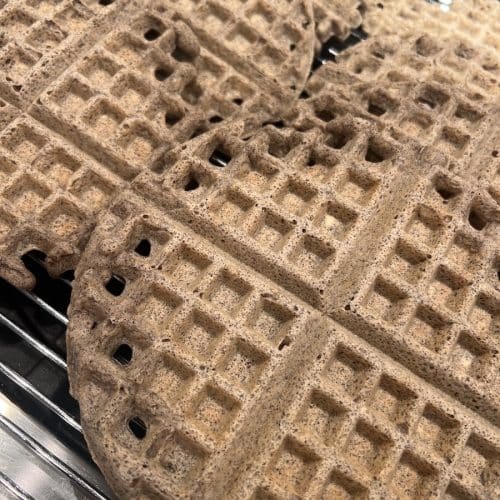 Best Gluten Free Buckwheat Waffles
An easy-to-make gluten free buckwheat waffle recipe that your family will love!
Ingredients
2

cups

buckwheat flour

(or 1 cup buckwheat flour and 1 cup of another flour of your choosing)

2 ½

tsp

baking powder

½

tsp

salt

2

cups

milk, any type

(Cow's milk, buttermilk, coconut milk, oat milk, etc)

2

eggs

1/2

cup

melted coconut oil

(or another type of liquid oil as desired)

1

tsp

vanilla extract
Instructions
Combine all the dry ingredients into one bowl (flours, baking powder, salt)

Combine all the wet ingredients in another bowl (milk, oil, egg, vanilla). Whisk together.

Whisk the dry ingredients into the wet. If using any gluten flour, whisk until ingredients are just combine (ie don't over mix).

Turn the waffle maker on. Spray with oil if your waffle maker tends to stick (mine often does). Let the mixture rest while it heats up. Add more milk if the mixture seems too thick.

Once the waffle maker is ready, pour your batter. I typically use a half cup measuring cup as my ladle.

Remove waffle when done and place on a cooling rack. Re-oil the waffle maker and continue with the rest of the batter. You should be able to make about 8 waffles.

To serve, slather with nut butter (my preference) or butter and a light sprinkling of maple or fruit syrup, if desired.