Creamy Winter Mushroom Soup
Most of you probably think of creamy soups as heavy and unhealthy. But what if I told you there are tasty ways to change it up?
Cream of Mushroom soup is one of those classic dishes that never seems to go out of style and makes a perfect winter meal.
This homemade edition is nutrient-dense and flexible enough to be the Cream of ANYTHING with some minor tweaks. Plus it's dairy-free, making it an easy one to please a crowd.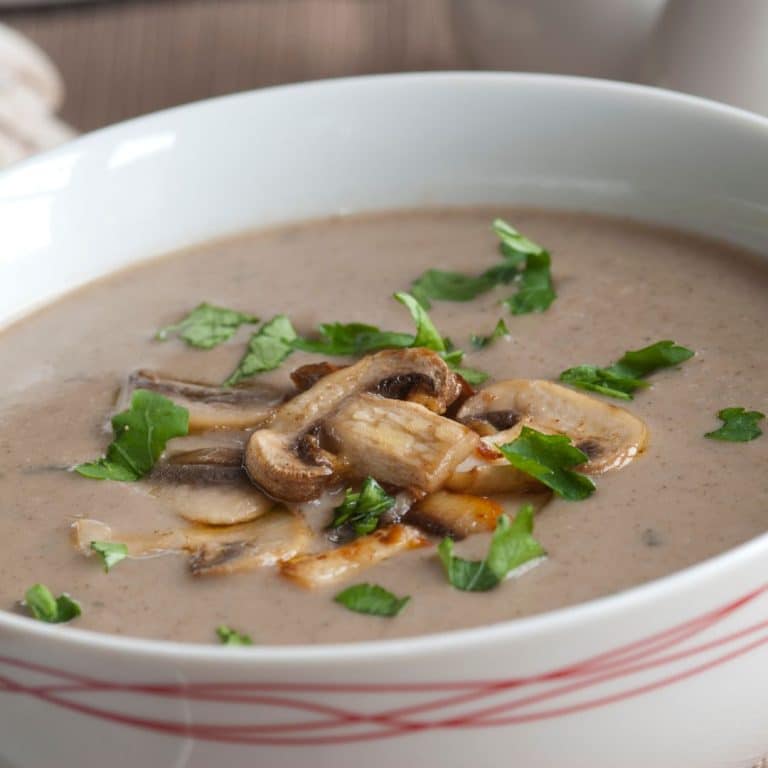 Creamy Winter Mushroom Soup
Creamy soups often get a bad wrap, but this healthy, non-dairy version will have you craving soup all winter.
Ingredients
2 ½

tbsp

olive oil

1

sweet onion

2

cups

cremini mushrooms, chopped

4

garlic cloves, minced

2

tsp

dried thyme, chopped

2

tbsp

yellow miso

1

small head of cauliflower, chopped (about 4 cups)

½

cup

raw cashews, unsalted

10+

cups

water

1

tsp

salt
Instructions
In a large soup pot, sauté onion and mushrooms [or vegetable of choice] in olive oil until mushrooms release their liquid and begin to brown. Reserve a few mushrooms for garnish if desired.

Add garlic and thyme; sauté an additional 2 minutes.

Add miso paste and stir to coat onions.

Add cauliflower and cashews and enough water to cover the cauliflower. Bring to a boil then reduce heat and simmer until the cauliflower is soft about 15-20 minutes.

Add water if necessary to keep cauliflower covered.

Remove from heat and let stand until cool enough to puree.

Puree soup in batches in a blender (or use a stick blender). Be sure the cover of the blender is on tight as steam from the soup could pop the lid.

Season with salt, to taste.

If desired, add nutritional yeast or shredded cheese to amp up the flavor
Notes
For Cream of Tomato:
Replace mushrooms with 2 cups of chopped canned tomatoes.
For Cream of Broccoli:
Replace mushrooms with 2 cups of broccoli florets